Operation: Earthrise is the tenth Soviet Act Two campaign mission.
It is worth noting that Chitzkoi is the first dog to land on the Moon in this mission.[1]
Briefing
The shuttles that Yuri was using to transport cargo to and from the Moon are now under our control; it shouldn't be long before we have an understanding of what he is doing up there. There's no telling what exactly is waiting for you, but we must assume it can't be good. It is possible that the base up there is a throne, from which Yuri plans to assume control of the world after activating the global Psychic Amplifier network he's trying to build. We do figure, though, that even if Yuri isn't on the Moon right now, a base of such importance and so isolated should have information on his and also his forces' whereabouts on Earth. Keep in mind Comrade, as your forces fight whatever is up there, that both you and them need the space shuttles to come back home.
Another thing you should be aware of: as a result of this unique situation we find ourselves in, only a portion of your usual forces will be accessible on the lunar surface. While most of your armored division is intact, however your infantry battalion will be composed of soldiers with modified suits, fitted for the dangers of space combat. Fortunately, with the technology acquired from the Chinese facilities, we will be able to deploy something exceptional. While our attempt to restore this alliance has failed, the Chinese will have a significant contribution to the war against Yuri, whether they intended to or not. Their advanced weapons will surely be useful in our hands, especially in such unpredictable environment as the Moon. You can treat it as reparations for all of their betrayals.
Objective 1: Explore the area and eliminate Epsilon presence.
Objective 2: Hold at least one Rocket Launchpad under your control.
Events
Moonfall
Shortly after the Soviets made a landing on the Moon, they quickly destroyed the small Epsilon Base in the proximity of the landing site and capture a pair of Bio Reactors and Cloning Vats, giving the General's troops some support.
Due to the nature of battling in space, where there is no air to breathe and gravity is light, the Soviet commanders' could only build armored units like the Shock Trooper and Eradicator, furthermore the Engineers required additional training and equipment to be able to properly function.
However thanks to the salvaged Chinese technology, they were able to gain plans of Yunru's Centurion Siege Crawler The Soviets also trained legions of Cosmonauts, essentially flying soldiers. After establishing a base and training some scout units. The Soviet base quickly became besieged by Yuri's moon forces.
Battle on the Moon
At first, the Epsilon was at advantage, with their space fleet consisting of Basilisks, Invaders, various types of Dybbuk including one that can mind-control the Soviets' ground units as well as one that bombards their forces with toxic bombs. Furthermore, they had their own battalions of Cosmonauts defending their bases.
On the ground, they had modified Gehenna Platforms armed with pyrokinetic cannons as well as purple-colored Brutes that are strangely tougher than their Earth-based cousins. Nevertheless, these forces did not stop the General. His Scud Launchers made quick work of every Epsilon defense while supported with Tigr APCs and Cosmonauts to thwart off the Epsilon attacks from above. Thanks to the salvaged Chinese tech, the soviets also had the ability to train Cyborg Vanguards for more firepower, Volkov was also on the moon, and the duo of Cyborg Vanguards and him made quick work of desperate Epsilon counter-offensives and crushed outlying Epsilon bases.
As they finally made their way into the main Epsilon Base, a transmission had informed that there is an mysterious soldier in the base, something quite odd to note is that the Soviet EVA had found out that the Mysterious soldier sounded very similar to.. someone. The General ordered his troops to stay alert, as the unknown soldier was on the hunt, as the general continued to advance, the strange unit attacked his forces with sheer impunity. Despite this problem, Chitzkoi managed to sneak attack the odd soldier. Nearby soldiers say that they will try to identify the unit.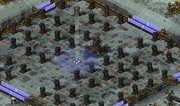 In the main Epsilon base, the General's forces destroyed Epsilon forces as they slowly advanced to the Lunar Command Center. There they found something unusual. There was a walled perimeter that was in a state of disrepair, which was possibly caused by a failed experiment, perhaps something related to what Morales told to them before. To keep his men safe, the General ordered his men to avoid this site nor doing anything near it... fearing whatever the Epsilon forces contained there might ending up rampaging his forces instead.
The general proceeded to crush what was left of Epsilon forces, and finally. He had won.
Aftermath
With the destruction of Yuri's lunar base, Yuri won't be able to flee if the Soviets defeat him. Now, it was the time to strike at Moscow.
With vengeance at hand, it is only a matter of time before the traitor will be punished for his treachery. And finally the Epsilon would be defeated.
Difficulty changes
Casual
Normal
Mental
Easter egg
SPOILER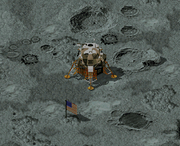 There is an American Flag and Lunar Lander located near the player's starting base. Destroying this Lander will grant the player a Firepower upgrade crate.
Capturing all 3 remote Radar Spires can get a bunch of crates at the player's starting base.
Trivia
References